Top kitchen trends in 2023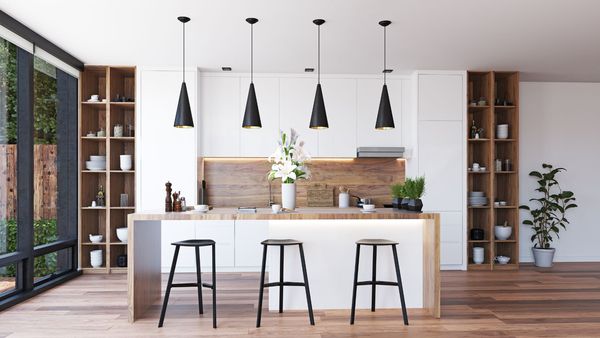 Throughout 2023 we've seen some interesting new trends emerging, as kitchens remain at the heart of countless homes, as a space for entertaining and being creative. 
We're here to help you stay on top of the latest innovations and designs, and transform your kitchen: 
The most popular kitchen trends in 2023 
Contrasting colours 
One of the biggest shifts is moving away from all white kitchens, to incorporating bold colours, mixed with unique black finishes to create a statement.  
Blue and green kitchens are creating a wow factor and adding interest. Incorporating deep tones will provide a classic feel that will endure the test of time. 
Wood panelling 
A stand out trend has been the inclusion of wood panelling. This year, wood panelled ceilings have been very popular, especially when combined with bright colours or deeper wood tones.  
Wood panelling creates a sense of drama on tall and vaulted ceilings, that taps into Biophilic Design, the idea of bringing the outdoors in.  
Bold colours mixed with wood  
Throughout 2023, designers have been embracing the wood's grain and tone, rather than selecting glossy varnish and heavy stain, for a more natural finish.  
Neutral colours
As well as the influence of big bold colours, we have also seen lighter and chalkier shades mixed with woods. Neutrals like white, cream, grey and greige are all trending in 2023.  
Like green, which continues to be a favourite choice following a surge in popularity in 2022, earthy hues also remain popular, bringing a soothing quality and echoing the idea of a natural connection to the outdoors.  
New cabinets 
A big design change is minimising upper cabinets, confining them to one wall or portion of the kitchen, or having none at all.  
Instead, people are opting for thinner modern shaker style cabinets, which add character, without the heaviness of traditional shaker doors. Lower kitchen drawers are also becoming increasingly popular, to maximise the functionality of the space. 
Painted islands 
Rather than doing a complete kitchen redesign, a popular trend is injecting some colour into your kitchen, by giving your island base a fresh coat of bold paint. 
A butcher-block island, made from rich walnut in particular, is really popular, as it is stylish, durable and really warms the space. For added functionality, many people are incorporating extra storage and cabinets, for a mini fridge and to hide larger appliances.  
Painted or patterned double kitchen islands are also ideal for entertaining and creating the wow factor. 
Mixed materials 
A popular move is blending different finishes in the kitchen, incorporating brass, bronze, stainless, nickel and other materials, to get a rich and appealing look. 
Natural sustainable materials 
A key trend is sourcing and using natural sustainable materials, like stone, wood and recycled metals. Opting for warm neutral hues like light stained oak, or stone waterfall islands and backsplashes are popular design choices and are being paired with natural wood accessories. 
How Redwood can help 
Achieve natural effects 
We have over 15 years' experience and can help you achieve natural effects with our Natura range. Check out Fantastic Natura and Perfect Natura for a natural wood effect. 
Create metal finishes 
For a stylish metal finish, check out our Ultra-Matt range and for metal finishes with liquid metal try Creative Metallic which comes in over 112 different colours. 
Colour matching  
Whether you are looking for a bold colour, or more neutral beiges and whites, we have an extensive colour range to choose from. Our expert team also provides a colour matching service so you can create your perfect kitchen look.   
For a solution that will keep your kitchen on trend, contact us on 023 9223 3310, or email sales@redwood-uk.com