Yacht interior design trends we love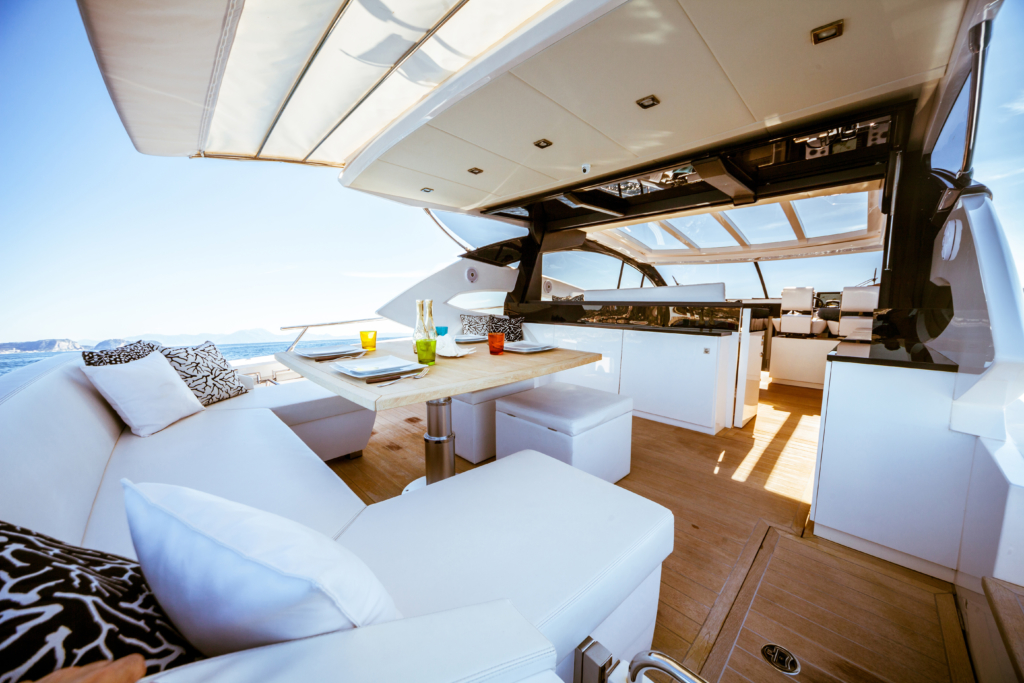 For budding interior designers, a yacht project is both a move into the big time, and a challenge. Aside from the obvious constraints imposed by the corrosive marine environment, planning a yacht interior presents a number of well-worn aesthetic hurdles.
The most pressing of these relate to mobility. Since yachts can move on a whim, the familiar repertoire of low-angle morning and high-angle afternoon shadows goes (literally) out of the window. Nautical interiors often receive direct sunlight from unexpected directions, and the situation is further complicated by reflections off the water surface. The upshot is that those on board get to see every element of the vessel in every kind of light imaginable…giving them plenty of opportunity for disenchantment.
Coming up with a design scheme that will stay the course, while maximising the vessel's potential, is quite a challenge. Even the largest yachts can be made to feel cramped by a bad paint job, and 'old seadogs' in the design field learn to rely on texture, detail and dark colours on the overheads to enhance the sense of depth, or to deploy reflective materials to suggest communication with the watery expanses outside the boat. Given the historical importance of wood in boat construction, a general fondness for timber surfacing is perhaps inevitable!
But, while the basic considerations of boat interior design have remained unchanged since Joshua Slocombe took Spray around the world a century and a half ago, the world of yachting has its own particular fashions and trends. Here are the developments which we're most enjoying this year.
Reclaimed wood
Reclaimed wood is our #1 favourite – after all, sustainability should be as much of a concern for superyacht owners as it is for homeowners. We've kept a close eye on the emergence of the reclaimed maritime timber market over the past decade, and we've enjoyed supporting the designers who need specialist dyes and finishes to repurpose 19th century timbers for 21st century vessels. We've seen beautiful interiors created from old rowboats, from the innards of a Victorian lighthouse, and, in an extreme case, from old-growth timbers recovered out of the anaerobic sediments at the bottom of a swamp. If you want to carry out your own experiment with reclaimed timbers, we'd be delighted to help.
Warm colour palette
Of course, designers have to deal with clean, new woods, too…and, at Redwood we've always prided ourselves on our all-encompassing palette of wood finishes and ability to custom-mix bespoke colours. While we reckon to cope with any and all requests that come our way, we've been delighted to note the recent return to a warm colour palette. Serene, neutral browns and beiges are no longer bleak, and champagne, grey and black accents are back in a big way, adding drama without becoming overbearing. We're even noting the beginnings of a return to muted pinks, blues and greens, all warmed up with earthy details.
High gloss finishes
After decades of muted mattes, we've also enjoyed the resurgence of high-gloss wood varnishes, a trend which may have been driven perhaps by the ready availability of new, ultrahard 'DLC' metal coatings. But what of the soft furnishings that will be framed by these glossy surfaces?
Sustainable fabrics
We've always been frustrated by the rigid boundaries which put orange plastic on-deck even when soft damasks are laid out in the cabin, so we've been delighted by the new breed of durable, sustainable fabrics – fade, mildew and mould-resistant, with eco-friendly processes deployed throughout the entire production process. We're particularly keen on the new waterproof leathers which enable upholstery and furniture to span the inside/outside divide.
Experts in yacht interior finishes
But, as we said earlier, Redwood's core business is in wood finishes, and we've obtained our greatest satisfaction from the work of our client, Oyster Yachts.
Oyster, one of the most highly-regarded names in the world of luxury yachting, had sought for years to minimise the yellowing of its trademark oak interiors while maintaining its super-high standards.
We were proud to be invited to participate in this enterprise; and multicoat acrylic PU lacquers from Hesse Lignal have proven to be a match made in heaven for Oyster's interiors.