Kitchen design trends to look out for in 2022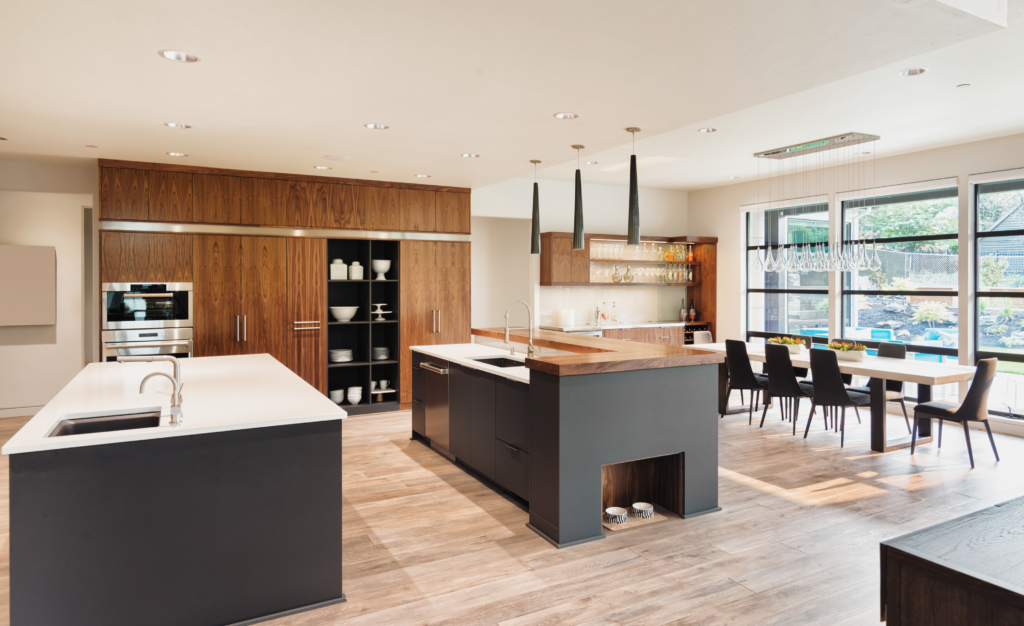 Kitchens have always been one of the most style-conscious areas in interior design, and our 2022 design predictions for this most homely of domestic spaces reflect the sweeping changes with which we're all presently faced.
When customers call our support team, themes of re-use and upscaling recur again and again. Fortunately, thanks to our skill with finishes past and present, Redwood is well-placed to help.
1. Pantries and larders
Pantries and larders are a retro feature that's making a big comeback, driven by increased interest in home-grown produce, the rediscovery of dried and pickled foodstuffs, and a wish to maximise use of space.
A well-planned pantry adds a reassuring, wholesome quality to any home. But, whether you're working with new or reclaimed materials, constructing a wood-framed and part-glazed interior structure that integrates fully with the rest of the house will require top-notch carpentry and building skills…and paints and finishes to match.
If a full-scale pantry is beyond your scope, consider installing a glazed partition. This is a great way to 'zone' your kitchen, control clutter and contain cooking smells.
2. Freestanding storage
Space is at a premium in modern homes, and kitchens are increasingly multifunctional. Freestanding furniture makes it easy to adapt your kitchen as your needs change. Many customers who might have opted for fitted units a decade ago are now shopping for dressers, glass cabinets and wooden shelves.
A shift to freestanding furniture gives you a perfect opportunity to mix up styles. Darkwood Welsh dresser adjacent to a carrera marble worktop…well, who says you can't? Second hand furniture will add personality to your home, and re-purposing old items is better for the environment than buying new.
Of course, buying old furniture will probably mean refinishing. So it's good to know that Redwood has primers, varnishes and stains for just about any project.
3. Backsplashes
If you need to tie together a disparate set of repurposed furniture, look to your walls. Backsplashes bring visual unity, as well as being marvellously practical. We've noticed a steady shift away from matt finishes and towards easy-to-clean tiles, which can help brighten a gloomy space with reflected light.
But, for maximum visual impact, it's hard to beat splashbacks in marble or stone. They're remarkably inexpensive when you consider the powerful impression they create.
4. Strong colour contrasts
Unexpected colour combos – known in the trade as 'colour pops' – arise naturally when you're using 'found' materials, and interior designers are getting bolder in their colour choices. If you're building an 'island' in the centre of your kitchen, why not highlight its 'independence' with a vigorously contrasted hue?
You're chucking out the rulebook, so this is a good moment to reconsider methods as well as outcomes. How will you put colour into your kitchen? Equipping generic off-white units with bright worktops is old hat. Consider instead the possibilities of paints and wood stains. Modern stains allow you to show off natural woodgrain while delivering totally unexpected colourways. Your imagination is the limit, and, as always, Redwood is happy to advise on technical issues.
5. Up-to-the-minute detailing
Of course, experimenting with upcycled furniture and old-fashioned storage solutions doesn't mean you can't deploy modern features.
You might go for recessed ("handleless") handles, high-end features whose practicality is making them a staple of designer kitchens. You might consider a 'smart tap', with boiling water options and a limiter that automatically switches off the hot feed after a few minutes to conserve energy. Or you might simply choose fittings finished with one of the new, super-hard DLC (Diamond-Like Carbon) coatings. These provide durability and colour options that would have been unthinkable a few years back.
If 2021 saw a revival of hand-painting, 2022 will be the year when upscaling goes mainstream. Finding ways to express yourself creatively using found materials is a challenge…and Redwood will be happy to support you along the way.